Our Products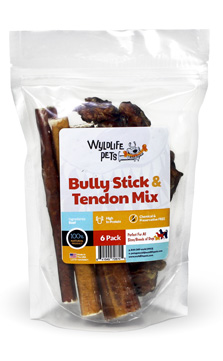 6 Pack – 3 Bully Sticks &
3 Beef Tendons
$16.97
Buy Now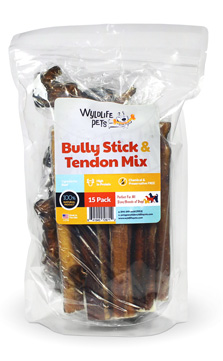 15 Pack – 8 Bully Sticks &
7 Beef Tendons
$34.95
Buy Now

The smell that dogs love!
Caution – If your bullys don't have a natural pungent scent then they are processed.
Wyldlife Pets bully sticks have the smell that dogs love.
[rev_slider alias="Testimonials"]
Odorless Beef
Tendons Chews
If your dog loves to chew, then this is the snack for you. We like to call them "Doggy Dental Floss" because beef tendons have a signature texture that is great for teeth and gums.
Our beef tendons are easy to digest, low in fat and high in protein. Made from 100% USDA approved American cattle, Beef Tendons really are one of the best choices you can make for your dog's dental health. And because they're so amazingly chewable, they're also the best choice you can make to protect your shoes and other prized household items from yet another unfortunate encounter with Rover!

Pungent All Natural Beef Pizzle –
Bully Stick Treats
Bully Sticks are an easier to digest, safer alternative to rawhide and other chemically processed dog treats, so you can feel good knowing that your pooch is practicing "safe snacks." Great for teeth and gums, Bully Sticks are the perfect choice to give your dog a delicious boost of protein that is also low in fat.
Some people are bit surprised when they hear what part of the bull that Bully Sticks are made from…you guess it. The pizzle is the bull's penis and dogs go crazy for it. Our Bully Sticks are made from 100% all beef with no harmful chemicals or preservatives. The strong, signature aroma makes dogs go wild, but it can be a bit much for some owners. You might want to tell your dog to "get a room" and keep these as crate and/or outside treats.

Our tendons are unbleached, chemical free and raised without harmful hormones or antibiotics, providing the perfect alternative to rawhide and other difficult to digest, chemically treated products.